Tuesday, March 15, 2005
Pictures, we got pictures...
Fog over the lake at Ramah.
Fine lodging facilities.
We even had flush toilets! Now all we need to get is a noise suppression system to handle those snorers. (Probably about as easy as handling
schnorrers
.)
'Round the campfire.
Steve Krodman, Dennis Renyi, Steve Stone, and Sid Milstein enjoy the campfire and try to decide whether to brave the Famous Sweat Hut.
The Needle-Elkan clan.
Top row: Josh and Ben Needle, Scott and Mark Elkan.
Bottom row: Mark and Hank Needle.
Two generations - and
machateinim
, besides!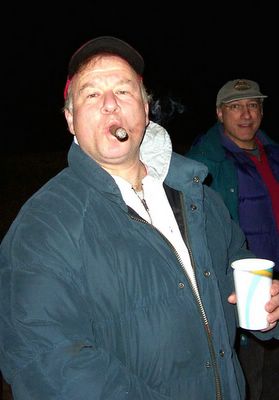 Irwin Weitz enjoys a 'gar.
Thanks to Jeff Eagle for these fine photographs, of which we have elected not to publish some of the
less-savory
...
More pictures to come, so stay tuned to Anshei Darom News!